When you're looking for the best Austin auto service, you want to find a shop with the right credentials. Our hand-picked team features mechanics with essential certifications, especially for those driving European vehicles. We love working on classics, but we continue to stay on the cutting edge of technology for the latest models. Pampered Auto Care will take the best care of you and your car.
Better Business Bureau
We are committed to earning your trust. Our membership with the Better Business Bureau demonstrates that we follow through on our promises. We have no unresolved customer complaints, and you can trust our advertising to tell the truth. Pampered Auto Care is an established, trusted business with a solid reputation and many satisfied customers. We would love the opportunity to provide you with first-rate auto service.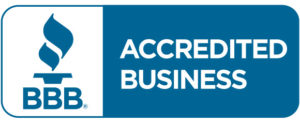 ASE Certified Mechanics
The National Institute for Automotive Service Excellence sets the gold standard for automotive professionals. ASE certification guarantees the knowledge and real-world experience required for proper automotive care. No matter where you choose to service your car, make sure they have ASE certification. At Pampered Auto Care, we are proud to employ ASE certified mechanics.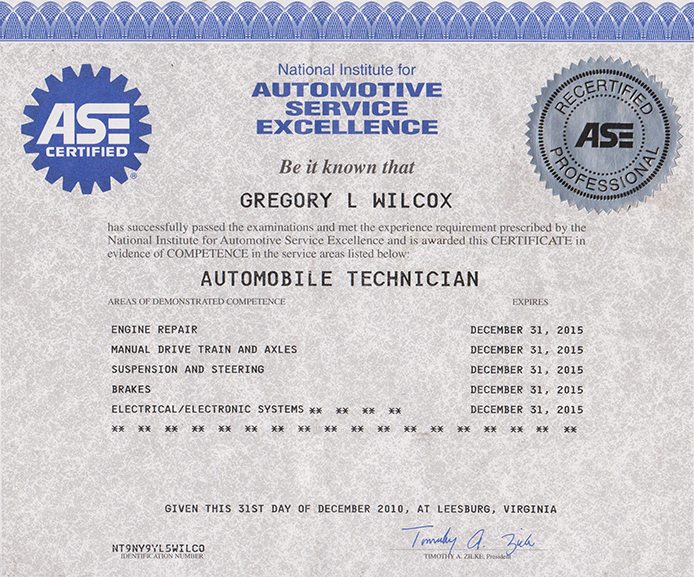 BMW Certification
Our BMW certified mechanics are here to give your vehicle the attention it deserves. We have the experience, knowledge, and tools necessary to properly repair and maintain BMWs. Since we don't have to spend time chasing down special equipment or learning how to work on these vehicles, we will save you time and money. We are the auto center of choice for BMWs in Austin, and with us you'll always know that your car gets the proper treatment.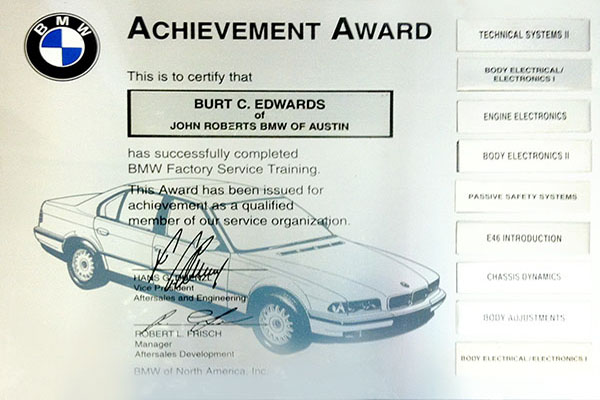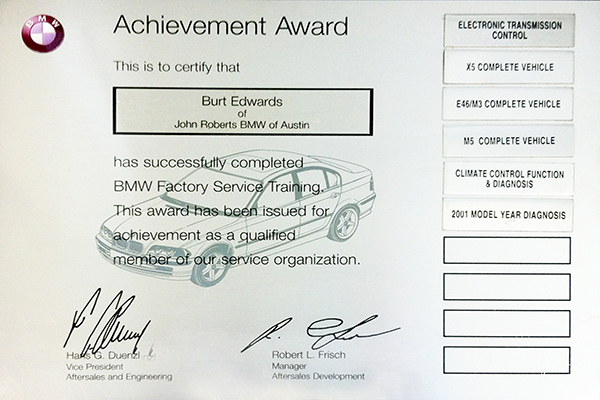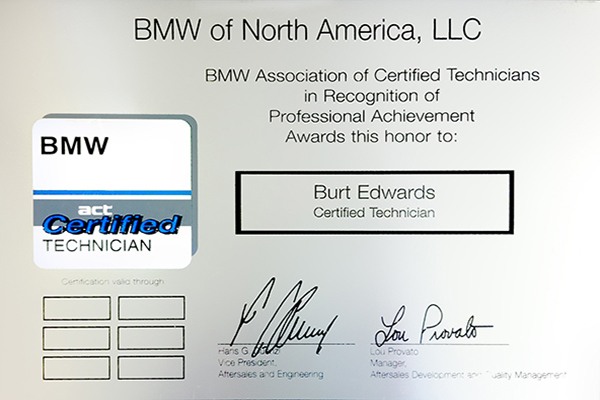 Mercedes-Benz Certification
You can't trust your Mercedes to just anyone. At Pampered Auto Care, we have the training and experience required for maintaining and repairing your favorite vehicle. At our shop, we love working on all Mercedes models. We are also experts in diesel maintenance for these cars, and we will get your car running exactly how you like it. When you're looking for the best Mercedes-Benz repair in Austin, we make it easy to choose Pampered Auto Care.
 
Visit Mechanics You Can Trust
It's a relief to find an auto repair shop with expert mechanics who keep their promises. We are proud of our hard work and the credentials we've earned, and we are happy to use our knowledge and experience to give your car the best possible care. Schedule your appointment today and see why our customers love Pampered Auto Care!